pavé
The other day Roodlicht and I got into a discussion about pavé and just what it is. We all know that several sections of pavé are included in this weekend's Paris-Rubaix race. In fact, the trophy for winning this race is a piece of pavé.
Being our resident euro, Redlight informed me that this stuff is brutal to ride. Your bike bounces all over the place, it slides, you puncture, its gritty. Apparently Redlight has ridden quite a bit of pavé when he lived in Belgium and a long section was right out his front door.
I dug up a photo from the net of one section from the Paris-Rubaix race.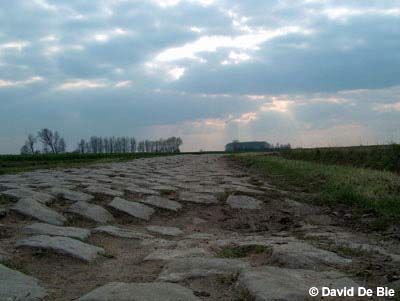 Yikes. How would you like to go full bore over this? Can you imagine a full ride on this junk?
Supposedly the discovery Channel team has a new bike with a suspension system to even out the pounding. What is even more curious is that I read they might not even ride Paris-Rubaix this weekend. Something about the toll it might take on the team. Now that would be a drag.
As for me, I would love to take a run on pavé for one reason; to say that I have done it. Bob Roll recommend riding all of the pavé sections of Paris-Rubaix, just not all at once. Maybe someday.
Snail Dik