Pound for Pound
Scanning this morning's Wall Street Journal I happened along a little article about food. Since I have been reading Carmichael's book, Food for Fitness, I thought that this might be an interesting read on the economics of the movement towards healthier fare in our resturants.
I was shocked to learn that the article was more about the "fatter" approach that the burger joints are heading. Case and point is the chain Hardee's. While long ago I vowed never to eat another fast food burger, I found the chart below startling.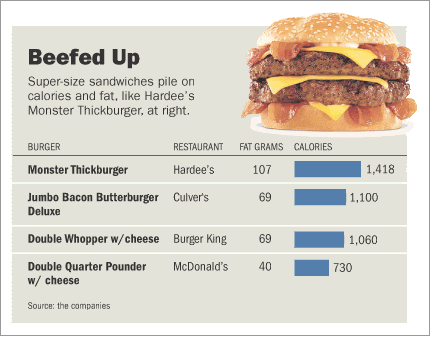 1,400 calories for one burger! Are you kidding me? This will kill an elephant. Imagine for a moment that you have decided that the Hardee's Monster Thickburger is the way to go. You wash one of these cows down with a "diet" coke and some fries. Now hop onto your bike and pedal up Deer Creek. I am sure that somewhere this side of the High Grade turn off the "Thickburger" would have converted your carcass to a mere speed bump.
Suffice it to say, I will never, ever, eat another fastfood burger. These guys are trying to kill their customers, one artery at a time!!!!
Fat or Fast?